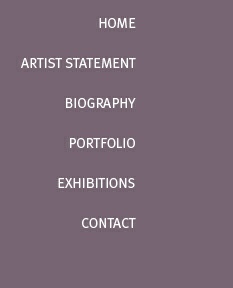 A VISUAL JOURNAL

All true art comes from a place deep within the artist. Art is not simply a mastery of materials and techniques, but an expression of the artist's emotional and intellectual reactions to stimuli in the inner or outer world. Some of my early paintings were formed within the subconscious in the way that dreams are made. Most of my paintings are more consciously formed but still derive from a deep visceral and emotional reaction to an idea or place. For me, painting is like keeping a journal, making visual the feelings and experiences that have occurred over a lifetime of work. It is an act of discovery of myself and the outer world.
I have been painting professionally for over 40 years and my work has changed much over time. But there are certain constants: a love of color, form and balance; the persistence of landscape in one form or another; a reference to the human body whether overt or quite hidden; and a sensual expression of the subject matter. There is also a pervasive calmness and quiet in most of my work.
Early work grew almost entirely out of my imagination and was at times figural and other times more abstract. Other images were based on actual places including travels in Great Britain and Austria, the topiary garden at Longwood Gardens, and the woodlands of Pennsylvania near where I live. Current paintings primarily feature the coast of Maine where I spend my summers.
I like to work in series. I find that by developing a subject in many ways over time, I am able to experience a place or idea more fully, and I continually discover new variations of shape or texture or color. Nature is more rich and varied than our minds can imagine and in looking at the same subject matter over and over, I am always excited by seeing something new and fresh.
I prefer to paint in my studio rather than outdoors in the landscape because the act of painting is a kind of inner searching or meditation. It is as much about my own reaction to the shapes, colors and textures I see as about the actual place. I work from the hundreds of photographs I take, and in the quiet of my studio, influenced by memory and the elusive search for something transcendent, these images become transformed into paint on canvas.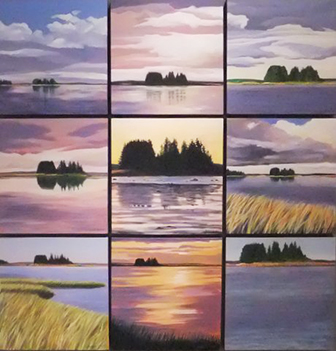 MILL POND SERIES VII:
NINE VIEWS, 2005
Acrylic on Nine Canvases
56" x 56", Private Collection